| | |
| --- | --- |
| Posted on 19 September, 2019 at 4:50 | |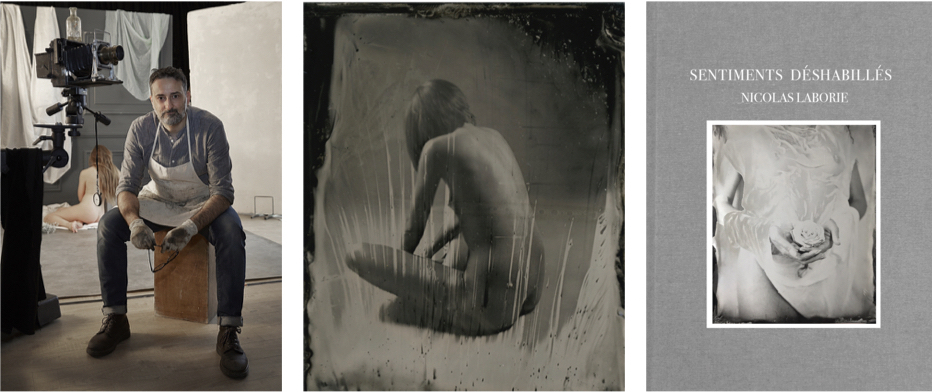 Nicolas Laborie is a London based Wet Plate Collodion artist and commercial photographer/videographer.
His fine art photographic work is based on social commentary, human condition and gender equality using the Wet Plate Collodion process, mixing an 19th century photographic process and technique with a contemporary subject.
Nicolas' beautiful and thought provoking work has been recognised in competition, including as Winner of the British Journal of Photography PORTRAIT OF BRITAIN 2017; finalist for the LensCulture Portrait international Awards 2017; finalist for the 10th Passion for Freedom Art awards 2018 for Josephine, from the series The Suffragette: Millennial rebel; and shortlisted artist for the Ashurst Emerging Artist Prize 2019. 
Nicolas' recent show is SENTIMENTS DÉSHABILLÉS at The Muse Gallery & Studio in London from 10th October 2019 to 27th October 2019. It is a wet plate collodion series featuring nude figures and botanical studies about the language of flowers and plants linked to the human condition. 
In your professional life, what is the single best thing about what you do?
 The ability to create and raise awareness is a blessing.
Do you have a creative hero / heroine and if so, why?
Always one artist spring to mind: Armando Alemdar Ara, painter and art historian, who's work and philosophy brings so much to its surrounding in term of movement, wisdom and spiritual energy. He is such an inspiration to me both as an artist and as the man with an undeniable presence.
What piece of advice do you wish you had been given at the beginning of your career?
 I`m lucky because I had other lives before that taught me a lot and Art is just a reflection of life. My only piece of advice I would give is to be generous to others. Its a small world and no matter how successful you are, never forget those who helped you get there.
If you hit a creative block, what is your top tip for getting through it? 
If I`m tired, I have a rest but I never give up. Sometimes a shower, a long walk by the river, in a park or forest… I meditate on the moment without any expectations or judgements and let myself go…I write notes that comes in my mind, some are full sentences and others just words. Once I manage to cypher these coded messages, I know that it comes from deep within myself and I see it as a sign to explore it further. If its meaningful then its always worth pursuing it.
And finally, for fun, if you were a shoe, what type of shoe would you be and why? 
I would be barefoot. Pure freedom and to get myself closer to the ground, to feel every vibration, sensation nature has to offer. But it doesn't stop me admiring the craftsmanship of other's shoes and their uniqueness and designs.
Links:
http://www.nicolaslaborie.com/home
http://www.themuseat269.com/whats-on/detail/174/nicolas-laborie-sentiments-dshabills
http://www.nicolaslaborie.com/album/suffragettes-millennial-rebels?p=1#4
http://www.nicolaslaborie.com/album/tin-tribes-in-the-garden-of-ether?p=1#1

Categories: Take Five
/